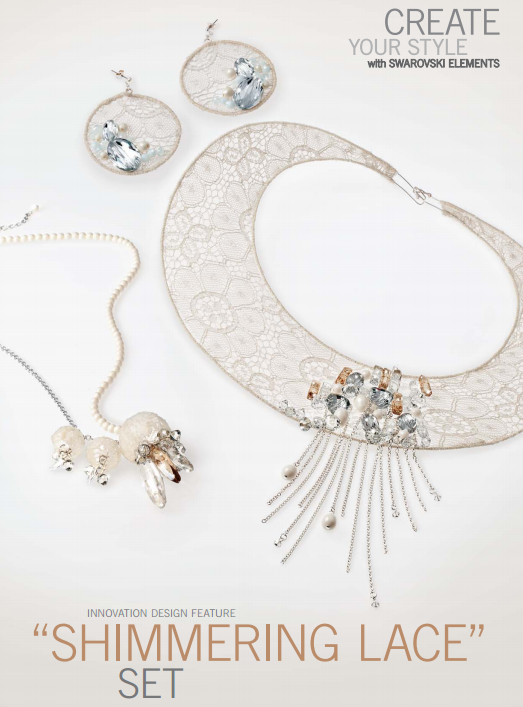 Be inspired by this beautifully femanine lace color design accentuated with innovative
SWAROVSKI ELEMENTS. This jewelry design and step-by-step instructions created by
WWW.CREATE-YOUR-STYLE.COM
See instructions below
SWAROVSKI ELEMENTS Supplies & Tools

Article Product Group Article No. Amount Size Color Color Code
Swarovski Beads 5000 2 pcs. 6 mm Crystal Silver Shade 001 SSHA
Swarovski Beads 5328 4 pcs. 4 mm Crystal Silver Shade 001 SSHA
Swarovski Beads 5534 6 pcs. 14.5 mm Crystal 001
Swarovski Beads 5534 5 pcs. 14.5 mm Crystal Golden Shadow 001 GSHA
Swarovski Beads 5534 4 pcs. 23.5 x 5 mm Crystal 001
Swarovski Beads 5050 3 pcs. 14 x 10 mm Crystal Comet Argent Light 001 CAL (Contact us for an order)
Swarovski Beads 5621 2 pcs. 14 mm Crystal Comet Argent Light 001 CAL (Contact us for an order)
Swarovski Crystal Pearls 5810 5 pcs. 6 mm Crystal Ivory Pearl 001 IVPR
Swarovski Crystal Pearls 5821 4 pcs. 11 x 8 mm Crystal Ivory Pearl 001 IVPR (Contact us for an order)
Swarovski Pendants 6328 8 pcs. 6 mm Crystal 001
Swarovski Pendants 6328 1 pc. 8 mm Crystal 001
Swarovski Pendants 6328 4 pcs. 10 mm Crystal 001
Supplies
Chain, silver, 2 m
6x Head Pin, silver
15x Jump ring,
silver, 4 mm
Nylon thread, transparent,
0.15 mm, 3 m
Wire, silver
1 mm, 1.80 m
Lace, cream, 30 x 30 cm
Tools
Double sided tape
Flat nose pliers
Fine sewing needle
Half round pliers
Pins
Round nose pliers
Scissors
Sewing machine
Sheet of paper,
A4 Side cutter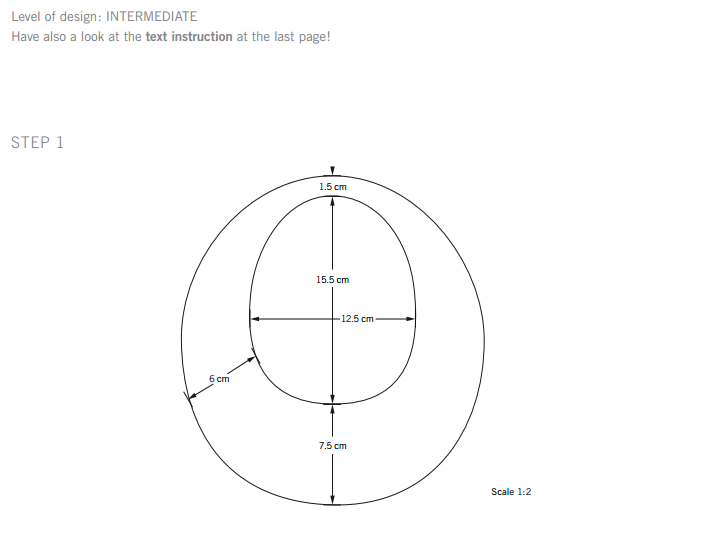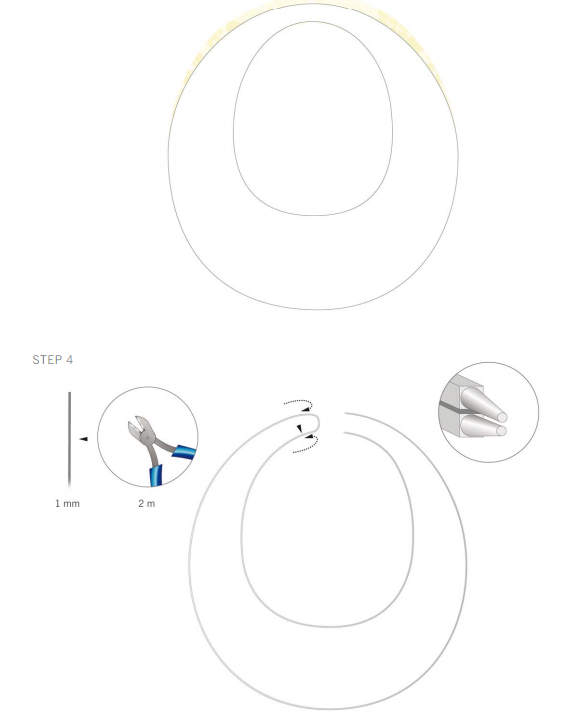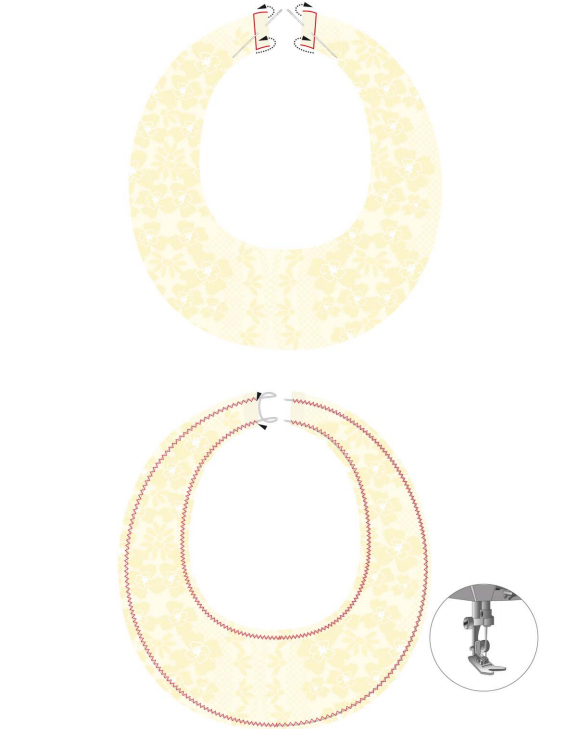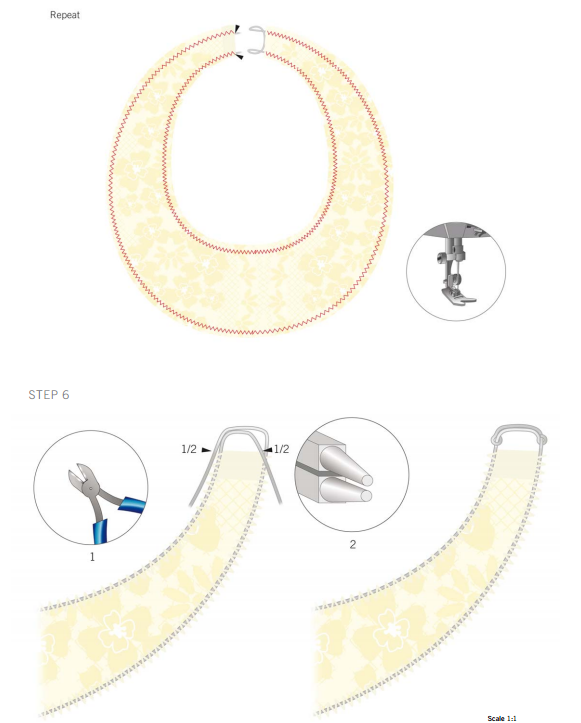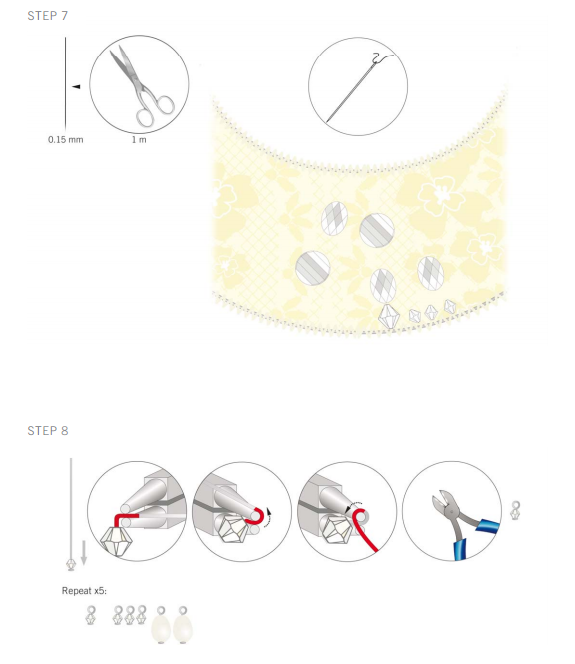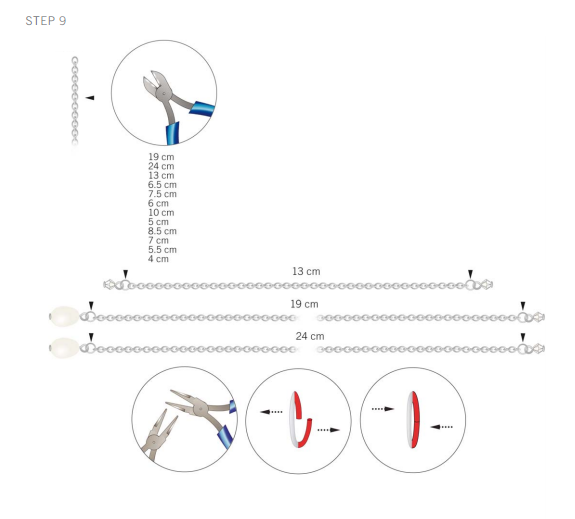 Step-by-step Instructions
STEP 1: Print out the pattern to double its shown size or draw a similar one with the measurements as shown in the
illustration.

STEP 2: Put double sided tape behind the pattern, stick it onto a piece of lace as shown and cut it out.

STEP 3: There should be about 5 mm of the pattern left out at the upper edge as shown in the illustrations.

STEP 4: Use 2 m of sliver wire and form the shape shown in the illustrations. Fold the closed end over using round
nose pliers.

STEP 5: Fold the seam of the lace inwards and secure with the pins. Place the wire over the lace and sew it with a
zig-zag stitch on a sewing machine. Flip the entire piece over and sew it similarly from the back side as
shown in the illustrations.

STEP 6: Fold the leftover ends of the wire inwards and cut them off leaving just enough length to bend a loop onto the
other end of the wire.

STEP 7: Cut 1 m of 0.15 mm nylon thread and sew the SWAROVSKI ELEMENTS on to the lace as shown in the
illustration.

STEP 8: Slide on Swarovski XILON Beads art. 5328 4 mm Crystal Silver Shade and Crystal Pearls art. 5821 11 x 8 mm
Crystal Ivory Pearl onto a head pin and form a loop at the ends. Repeat step to create a total of 6 as shown in
the illustrations.

STEP 9: Cut different lengths of chains (13, 19 and 24 cm) and attach previously prepared SWAROVSKI ELEMENTS
loops onto chains using 4 mm jump rings. Attach the three chains onto the lace as shown.

STEP 10: Repeat step 7 and 9 to attach all SWAROVSKI ELEMENTS onto the lace as shown. Cut the chain to the
following lengths and attach with 4 mm jump rings as shown in the illustrations. Chain lengths are as follows
in order of their appearance on the lace: 6.5 cm, 7.5 cm, 6 cm, 10 cm, 5 cm, 8.5 cm, 7 cm, 5.5 cm and 4 cm.