Watch this video to see the brilliance up close and personal for the brand New Swarovski Crystal Colors and Styles for your Fall and Winter Jewelry Designs!
NEW SWAROVSKI INNOVATIONS FOR FALL / WINTER 2018/19
LIGHT and SHADOW
One can imagine that the way we envision our lives to be, is being influenced by our perception of the world. There can be a divide between viewpoints which will affect us accordingly. On one hand, we can see a bright and hopeful future, full of opportunity. On the other hand, we can see difficult challenges ahead and would prefer to substitute our circumstances with a more simple, bygone, time.
This Fall and Winter season, we bring to light these polarized viewpoints and understand in reflective thought the undeniable recognition that;
where there is light, there is shadow.
Ooohhhh the enthusiasm is palpable! Can you feel it!!?? I'm sure you can, because I know you ♥♥♥ LOVE♥♥♥ Swarovski sparkles as much as I do!
Today's we celebrate the BIG reveal for the NEW Swarovski Crystal Fall/Winter 2018 Innovations (yay – happy dance!)
These new Crystals are truly stunning and exceptionally distinctive! I've never seen Swarovski Crystal Pendants quite like THIS before, and I'm sure you will be pleasantly surprised at how unique they are. Without further adieu….feast your eyes on these……
Introducing The Brand New Swarovski Crystal Color SCARLET
Swarovski's New beautiful color for Fall/Winter 2018/19 Trends is called SCARLET
Swarovski's presents Scarlet as the newest note-worthy color in their Fall and Winter 2018/19 line. This first-rate, elegant shade of red, is the red-letter color choice for truly stylish occasions. The enticing allure of this new Scarlet red crystal color can be distinctly defined as, opulence embodied. This enchanting shade is now available throughout Swarovski's product range in numerous shape and size options to enhance your jewelry designs, dance costumes, and creative endeavors. Best of all, this chic new Swarovski color contains no cadmium, which is environmentally responsible.
New Swarovski Crystal 5328 Xilion Bicone Beads in Scarlet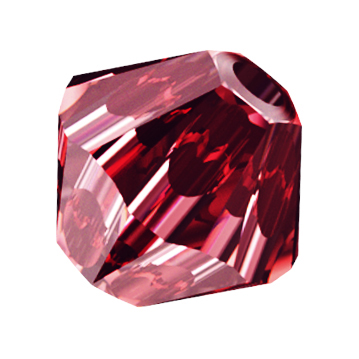 Swarovski Crystal 1088 Round Stone and Pearshape Fancy Stones in the New Color SCARLET
Swarovski Crystal Flatback Rhinestones Featuring the New Color SCARLET
Introducing the New Swarovski Crystal Pearl Color: VELVET BROWN
The newest Swarovski Crystal Pearl Color called Velvet Brown exudes a decadent, elegant and enriching quality, reminding us to celebrate the finer things in life. With it's vintage luxurious feel, your jewelry designs will be enhanced further with an allure of sophistication and grace.
Introducing a Line Extension of the Stunning Swarovski Crystal SHIMMER EFFECT
The New Swarovski Crystal SHIMMER Coating was first applied to Flatback Rhinestones to especially brighten up the dance sport industry, and now you will be able to enjoy this captivating effect on Crystal Beads, Pendants, Round Stones, Fancy Stones and Sew-On Stones.
Introducing The Brand New Swarovski Crystal Pendants
GROWING CRYSTAL RECTANGLE PENDANT and the
GROWING CRYSTAL RHOMBUS PENDANT
Swarovski Designer Edition: GROWING CRYSTAL DESIGNED BY IRIS VAN HERPEN
"For beauty yet becoming."
Swarovski continues to collaborate with new designers and influencers to create truly innovative, eye-catching designs that WOW us! This Fall and Winter season, we have been give a real treat. The Swarovski Designer Edition Series features Iris van Herpen with her Growing Crystal Line, two different Crystal Pendants inspired by the creative power of nature.
The first new Swarovski Crystal Designer Edition Pendant is the 6926 'Growing Crystal Rhombus,' Pendant pays homage to the fractured and fissured elegance of crystals shaped by tectonic forces.
Colors and Sizes available in the New Swarovski Crystal 6926 Pendant
The second new Swarovski Crystal Designer Edition Pendant is the 6925, 'Growing Crystal Rectangle,' resembles the cross section of a druse crystal in both brilliance and complexity.
Colors and Sizes available in the New Swarovski Crystal 6925 Pendant
In each instance, van Herpen highlighted the metamorphosis of crystalline forms under the influence of time: "For beauty yet becoming."
Introducing New Swarovski Crystal 3D Studs
In addition to the pendants she imagined for the Designer Series, the collaboration with van Herpen also triggered Swarovski to create special 3D Studs, which make it simple to achieve eye-catching relief. Available in three heights, three different plating options, two different cuts, and twenty color and effect options, they are ideal for adding texture and relief to garments for added design freedom.
New Swarovski Crystal Fall/Winter 2018/19 Product Overview
Introducing the New Swarovski Crystal Jewel Cut Flatback Rhinestones and Sew-On-Stones
The New Swarovski Crystal Flat back shapes include the following:
2201 Marquise Flatback, the 2303 Pear Flatback and the 2602 Emerald Cut Flatback
The New Swarovski Crystal Sew-On Stone is the:
New Swarovski Crystal 4775 Eye Fancy Stones
Introducing the New Swarovski Crystal 4754 Starbloom Fancy Stone
Introducing the New Swarovski Crystal 4707 Slim Trilliant Fancy Stone
SWAROVSKI innovates and brings to life the finest precision cut crystal in the world and has remained established in this prestigious position since 1895. To mark the beginning of the SPRING/SUMMERand FALL/WINTER seasons, Swarovski unveils their newest Crystal Innovations for crystal lovers to be amazed and inspired by.
Shine Bright Sparkle Tribe!
At Rainbows of Light we only sell Genuine Swarovski Crystals Wholesale to the Public, offering you thousands of shapes, colors and sizes to choose from. We have no tax or surcharges and always provide Free U.S. Shipping on all orders over $100.00. This Guarantees you receive the best prices anywhere on all your favorite Swarovski Crystals!
We can order anything Swarovski makes within the components division – even if it's not listed on our website

rainbowsoflight.com

. Please

contact us

for anything you're interested in, as we are ALWAYS happy to help!
Keep Smiling & Keep Shining!