Hello fellow Crystal lovers and jewelry enthusiasts, what an exciting day it is!
Swarovski is delighted to announce the Brand New Crystal Innovations for Spring/Summer 2019! Prepare to be enthralled with a fresh new color for your palate, and innovative styles for your designing pleasure!
(These will all be available to order on the website soon!)
Introducing Swarovski's newest crystal color for this year, Majestic Blue
Swarovski has introduced the wonderfully evocative Majestic Blue color throughout the entire product range. This is a new shade, created as an homage to endless skies and mysterious seas; it is pure, with a deeper intensity and sparkle than any previous blue—ideal for bringing a magnetic allure to apparel, costumes, jewelry and accessories.
All themes – Culture, Freedom, Leisure, Adventure
The deep radiance of Majestic Blue is used as a connection between all 4 inspiration themes, highlighting the path of travel – whether it's the deep blue sea, a raging river, or the wide open skies, our desire for freedom and escape is captured in its elegant shade.
The brand New Swarovski Crystal Color Majestic Blue will be available in the following categories: Beads, Pendants, Round Stones, Fancy Stones, Flatbacks, Sew-on Stones.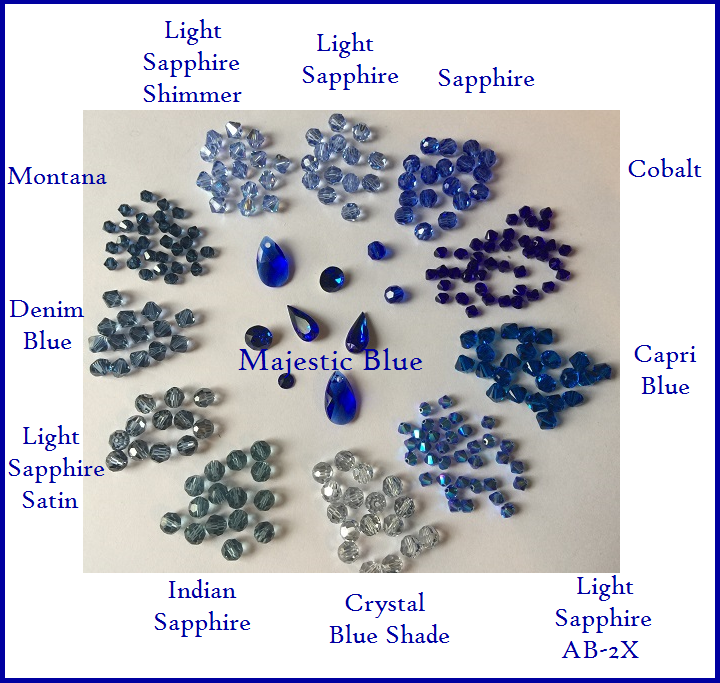 Introducing the New Swarovski Crystal Spike Bead Collection:
New Swarovski Crystal 5060 Hexagon Spike Bead
New Swarovski Crystal 5061 Square Spike Bead
New Swarovski Crystal 5062 Round Spike Bead
Culture and Adventure
The Swarovski Crystal Hexagon, Square and Round Spike Beads demonstrate the design principles of flexibility and modularity by offering myriad ways to create tactile, edgy surface effects. Size and shape experiments translate into expressive, individualistic looks. These new beads will be available in sizes 5.5mm and 7.5mm. The 5.5mm size bead has a single hole and the 7.5mm-size bead features two parallel holes running side by side.
A combination of the three Spike Beads can be utilized for creating unique 3-dimenisional and eye-catching beading designs. The two holes in size 7.5mm facilitates double-strand bracelets, necklaces or rings, and adds stability, definition and shape to all designs.
These unique beads can be used in multiple segments and a variety of application methods, e.g. the beads can also be used as Sew-on Stones to give textiles even more glamorous and precious look.
Introducing Swarovski's newest crystal style is called the Classic Cut Pendant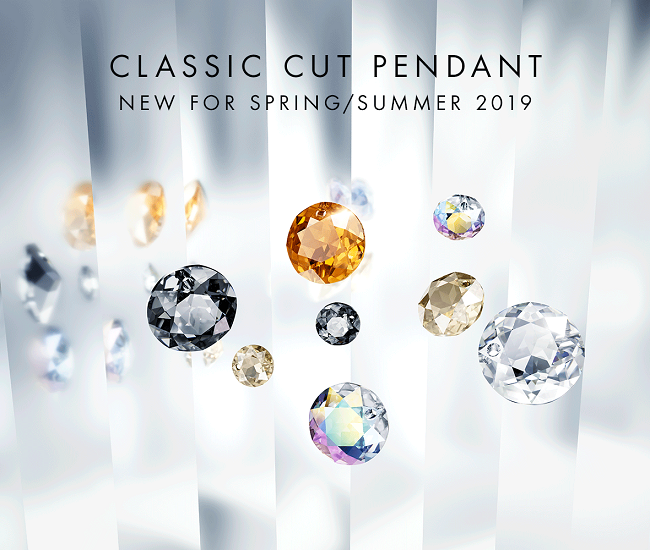 Among the season's new stones is the 6430 Classic Cut Pendant, a simple hymn to the timelessness of versatility. Its round 49-facet gemstone cut will give the look of fine jewelry without the need for a setting—ideally suited to jewelry, hand-sewn apparel and accessories. This new Crystal Pendant will be available in the following sizes, 8mm, 10mm and 14mm.
Introducing Swarovski's newest Crystal Pearl Color Iridescent Dove Grey
Elegant and refined, the new Swarovski Crystal Dove Grey Pearl speaks to myriad design directions and exquisitely complements the new Majestic Blue in sophisticated and glamorous designs.
Introducing Swarovski's newest crystal Flatback style the Geometric Flat Backs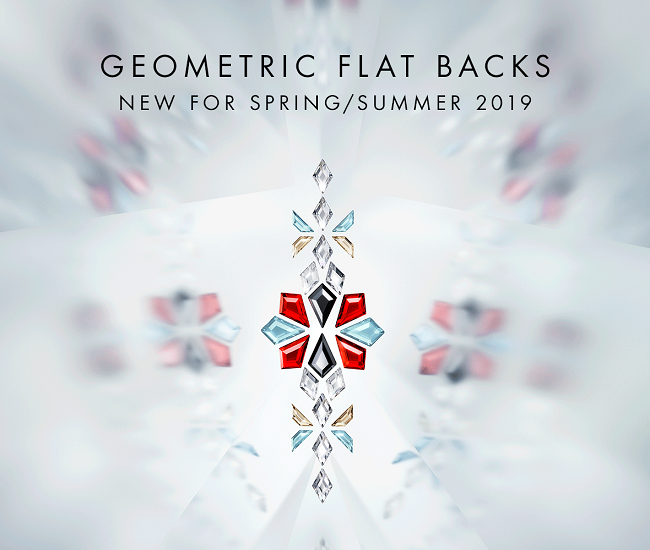 The brand new Swarovski Crystal Geometric Flat Backs will jumpstart designs with energy, form and balance. Infinitely combinable, these classic shapes with simple cuts are perfect for crafting eye-catching motifs as well as striking repeat patterns as well as combining the 3 articles to create ornaments or rows of motifs.
New Swarovski Crystal 2771 Kite Flatback
New Swarovski Crystal 2772 Trapeze Flatback
New Swarovski Crystal 2773 Diamond Shape Flatback
Culture, Leisure and Adventure
Completely versatile, with the ability to create intriguing patterns in a range of styles, the Geometric Flat Backs crosses borders and boundaries to create both modern and authentic design elements in apparel collections. Nail art is very popular and these new crystal shapes are offered in very small sizes which are perfect for creating detailed designs on your nails.
Introducing the Brand New Swarovski Crystal Fine Rocks Tube Bead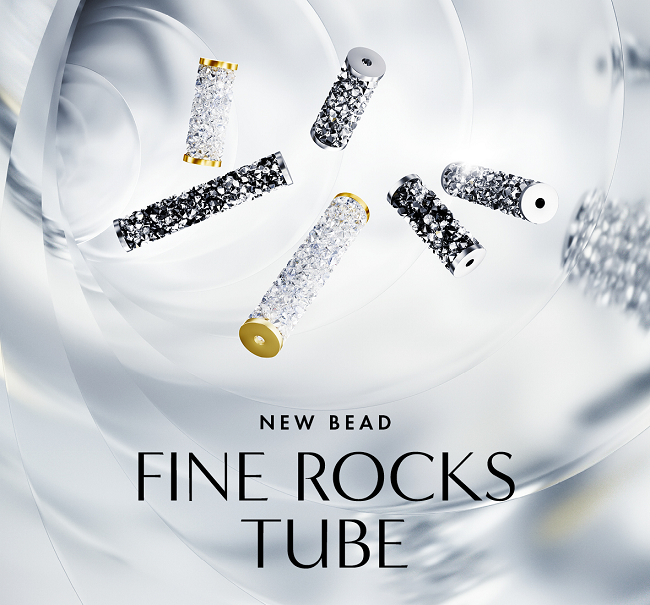 The fashion-forward Fine Rocks Tube Bead from Swarovski is a new hybrid bead created to enhance highly individual designs. Double-pointed Crystal Chatons give its surface the brilliance of a pavé finish, while the tube shape offers endless styling possibilities as a sew-on element or as a threaded bead.
Introducing the New Swarovski Crystal Shiny LacquerPRO Effects:
Crystal Buttercup, Crystal Lime, Crystal Lilac
The Crystal Shiny LacquerPRO effects are available for the Swarovski Crystal Round Stones, Fancy Stones, Flat Backs No Hotfix and Flat Backs Hotfix.
Culture, Leisure and Freedom
The New Crystal LacquerPRO Effects Buttercup, Lime and Lilac answer our need for refined shine and uplifting hues. A perfect match for elegant styles, bold streamlined designs, and expressive looks, the New LacquerPRO Colors also offer exciting, fresh design possibilities when combined with Majestic Blue.
The LacquerPRO effects were tested extensively, showing good resistance to chemical, environmental, and mechanical influences (e.g., UV, sweat, and perfume resistance).
Introducing the Brand New Swarovski Crystal 3252 Emerald Cut Sew-On Stone
Freedom, Leisure and Adventure
A perfect companion for traditional elegant looks, the classic jewel cut of the Emerald Sew-on Stone appeals equally to truly individualistic styles and modern outdoor looks.
This elegant Swarovski Crystal Emerald Cut Sew-On Stone is ideal for embellishing shoes, accessories, womenswear, and dancesport via threading, wireworking, etc. This geometric shape gives an opportunity to create straight-line designs (e.g., borders, neckline,etc.) as well as large surface designs. Symmetrical design and shape of this Sew-on Stone guarantees identical designs on the left and right sides – for example, in shoes or textiles (designs can be flipped horizontally or vertically).
Introducing the New Swarovski Crystal 4322 Teardrop Fancy Stone
Culture and Leisure
This modernization of a classic cut means that it suits forward-thinking and sculptural designs just as much as it does traditional elegance.
The New Swarovski Crystal Teardrop Fancy Stone and Setting is a slimmer, elegant, and more contemporary option, suitable for the bridge & fashion jewelry segment. This slimmer shape is ideal for filigree jewelry looks. This is a more brilliant cut due to unique faceting, rather than from greater depth or weight of shape. Mixing the teardrop with existing pear shapes 4320 and 4328, enables more design possibilities.
Introducing the Brand New Swarovski Crystal Letter BeCharmed Beads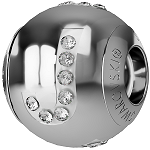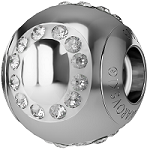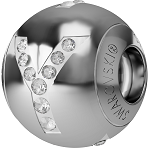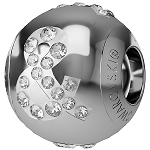 These distinctive letter beads from Swarovski provides you with the ability to truly personalize your jewelry, as each letter is formed out of Crystals!
You now have the opportunity to create your own on-trend personalized messaged jewelry designs creating bracelets, necklaces, shoes, bags, accessories, etc. utilizing these Swarovski Crystal letter beads. These new beads are available in the 12mm and have the signature Swarovski® logo on each side of each bead next to the hole. Add these sparkling tailor made beads to your collection and create jewelry designs that have meaning and emotional value to you and the special people in your life.
(Please contact us directly for prices and order quantities at https://rainbowsoflight.com/customer-service/)
Let Crystals be Your Catalyst for Creating!
Stay In the Know with These Jewelry and Culture Trends, Plus Design Inspirations.
As we look towards the future to try and gauge what cultural shifts, and stylish trends are on the horizon, Swarovski presents us with a valuable map that allows us to chart the vision of our new creations, utilizing the crystallized instruments through which we express ourselves.
As jewelry designers, it's important to have an understanding of lifestyle trends and cultural changes, in order to provide your clients with innovative designs that express this growth. Below is information on the key trends to be aware of.
The new mood of boundless freedom and joy, a time of barefoot luxury and spiritual awakening, is reflected in four key trends:
Culture is inspired by "art tourism" and colorful urban installations; Freedom evokes the 70s surfer mantra "Take it easy"; Adventure prioritizes nature and the authentic journey; and Leisure is informed by a full-frills tourism that sees yachting as the prestige tailor-made holiday.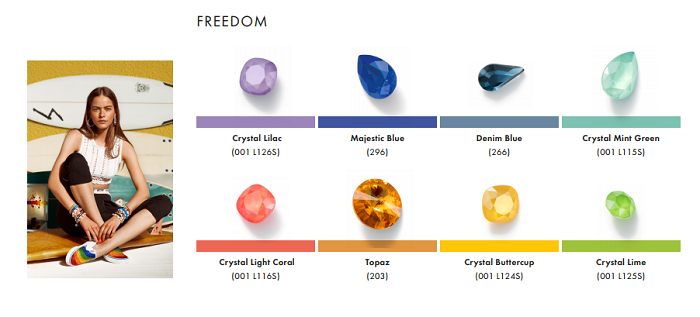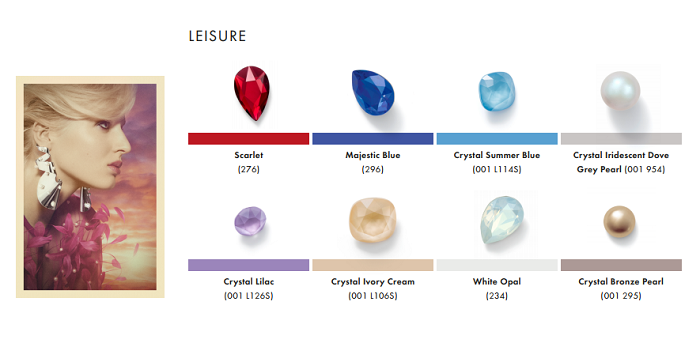 Design Inspiration for Swarovski's new Color Majestic Blue
Inspired by legendary French jewelry designer Jacques Gautier, who famously made pieces for Christian Dior, this necklace channels the vintage glass and enamel look for which he is famous. Black and white geometric blocks are contrasted with crystal flowers created using the new Majestic Blue color for a fresh couture look.
Swarovski Crystal Mejestic Blue Flatback Rhinestones on Denim Jacket
Design Inspiration Crystal Shiny LacquerPRO Effects:
Shiny new LacquerPRO effects—Lilac, Lime and Buttercup—punctuate delicate strands of neon beads and an eclectic collection of charms to create a laidback 80s surfer vibe. Offering brilliant versatility, the shorter strand detaches from the necklace to make a matching ankle chain.
Swarovski Crystal Bead and Iridescent Dove Grey Pearl Bracelet Design Inspiration
As Coco Chanel famously remarked: "A woman needs ropes and ropes of pearls." Inspired by Chanel's Fall/Winter 2017 prêt-à-porter collection, jewelry this season is opulent, featuring softly opaque pearls, precious metals, and lashings of crystals. The palette is classic: pastel pale and lustrous. The silhouette, however, is modern: big, bold, and head turning.
Unique Swarovski Crystal and Pearl Necklace Design Inspiration
It's all about standing out and expressing your very own individual style. This Crystal and metal necklace design does just that, as well as highlighting an exceptional way to use the new Teardrop Fancy Stone in differing sizes.
Swarovski Crystal Fine Rocks Tube Bead Earring Design Inspiration
Beaded oversized statement earrings remain the focus for directional accessorizing. The key feature of this eye-catching look is exaggerated proportions, often with an extra-long drop that brushes the shoulder. High-shine elements maximize the visual dynamic, as demonstrated by this glittering circle design made using Fine Rocks Tubes.
New Swarovski Crystal Necklace Design Inspiration
The new Gem Classic Cut Pendant and the gleaming colors of the new LacquerPRO Effects (Fancy Stones) are set into an elongated pendant necklace with a dark metal finish to make eye-catching highlights. The resulting visual contrast, together with its calligraphic lines, sets a sophisticated mood.
Crystal Earring Inspiration - Side Profile of the New Classic Cut Round Pendant
The simple elegance of the new Swarovski Crystal Classic Cut Round Pendant is a beautiful addition to their line, enabling you to create all kinds of stylish jewelry that feels effortless and graceful.
Swarovski Crystal Emerald Sew-On Stone with Geometric Flatback Design Inspiration
The new Swarovski Crystal Emerald Cut Sew-On Stone's shape pairs beautifully with the new Geometric shaped Flatback Rhinestones. Intermix these two complimentary styles with each other to create eye-catching designs of all kinds.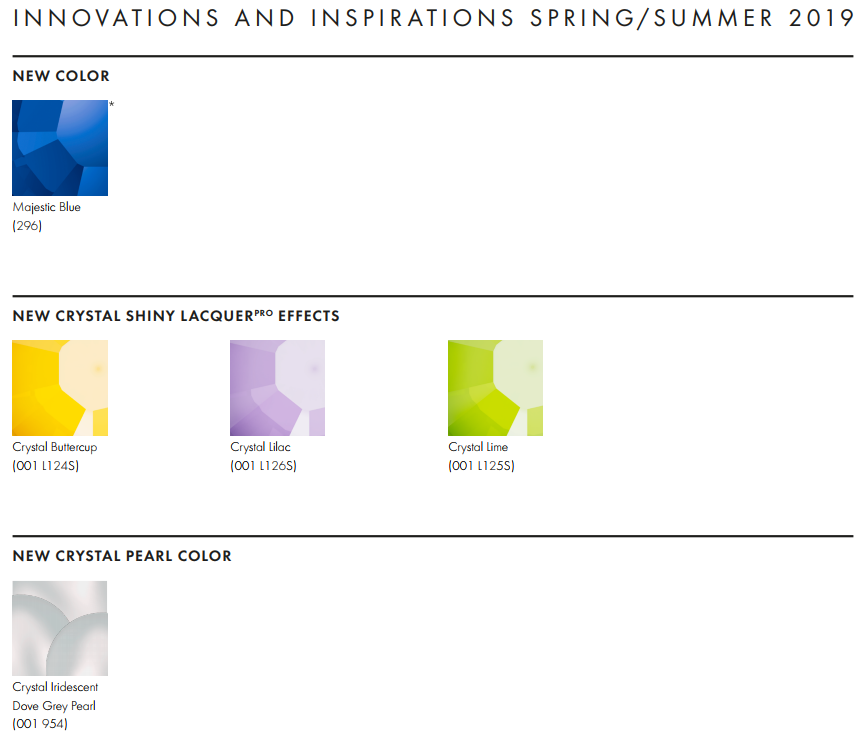 I hope you've been inspired by these new Swarovski Crystal Styles, colors and design ideas! Stay tuned as we dream up more color combinations and design inspirations to light your creative fire!
I would LOVE to know what you think about these new innovations!
Shine Extra Bright Sparkle Tribe!
Keep Smiling & Keep Shining!