Presenting the brand New SWAROVSKI INNOVATIONS Fall/Winter 2016/17!
Swarovski is the world's leader in cut crystal and fashion jewelry. Their innovative styles, colors and effects are the ultimate in crystal luxury. Swarovski's latest groundbreaking Kaputt Collection is introduced under the theme "Perfectly Imperfect" which was designed in collaboration with Jean Paul Gaultier and is nothing short of spectacular!
These new Swarovski Crystal Innovations will amaze both jewelry designers and DIY hobbiests alike!
New SWAROVSKI Crystal Effect: Crystal Scarabaeus Green
A touch of luxury: exclusive designer edition designed by Jean Paul Gaultier is available to everybody in the Swarovski assortment.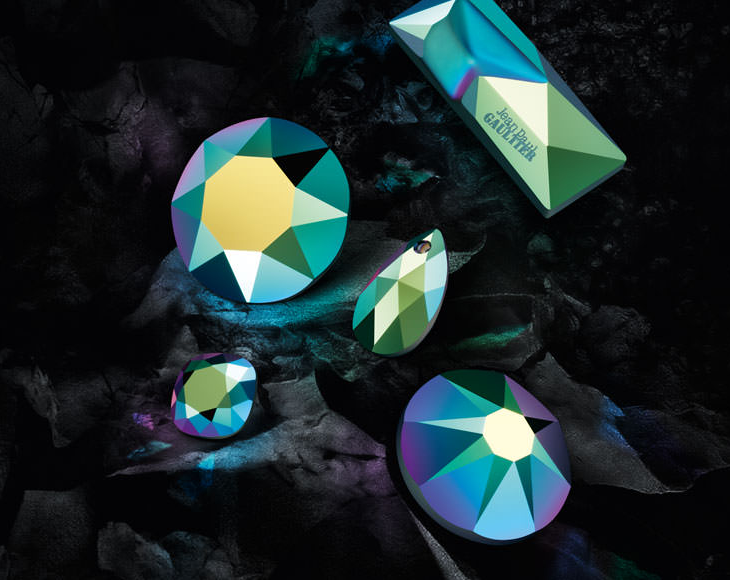 Aptly named, Crystal Scarabaeus Green (click here for the pronunciation) evokes the magic glow of the scarab, shimmering in green, blue and purple with a metallic luster that combines bright and shadowy facets to create a stunningly graphic surface.
With its beetle-like glow, this new brilliant SWAROVSKI Crystal Effect lends itself perfectly to nature-inspired and bold eco-designs. It powerfully mimics nature and sets a rebellious statement for any eco-warrior. However, its shiny surface also evokes an otherworldly appearance that echoes futuristic, stellar avant-garde looks. The metallic rainbow hue caters to the sporty sci-fi appeal trend that celebrates state-of-the-art technology and transports us into other dimensions.
New SWAROVSKI Crystal Effect: Crystal Light Chrome
Crystal Light Chrome is a highly sophisticated interpretation of the color silver.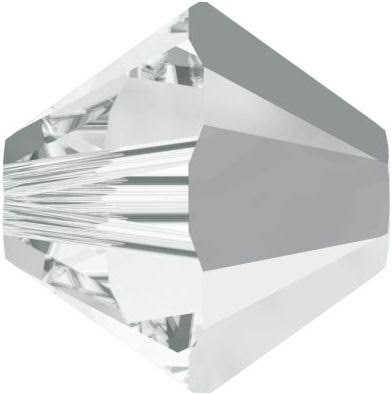 Crystal Light Chrome is slightly darker than the famous CAL and does not have a mirror effect. Instead, it embodies fluidity, emotion and mystery for a soothing and purifying impact. This is a perfect Fall and Winter shade to express the season's cooler attributes and will make dramatic statement jewelry for special occasions as well as everyday ware by opening up countless glamorous design possibilities in male, female and unisex designs.
Crystal Light Chrome's cold silver shimmer emphasizes the renewed focus on opulence with a modern mindset. In color theory, silver is associated with energy, prosperity and modernity. As such, this is a timeless, unisex element for all looks, but the metallic hue of the Crystal Light Chrome particularly encapsulates robotic/sci-fi design elements that are currently on the rise.
New SWAROVSKI Pearl Color: Crystal Scarabaeus Green
The Crystal Scarabaeus Green Pearl is similar to the Crystal Iridescent Green Pearl and Crystal Iridescent Purple Pearl with it's distinctive vibrant shimmeering sparkle.
Expressing his desire for an exclusive effect that would match his Kaputt Collection, haute couture icon Jean Paul Gaultier developed Crystal Scarabaeus Green, now available as a Swarovski Pearl. The story goes that as a young man, he would frequently pass the Paris opera house and was fascinated by the green coloring of the tarnished copper roof. For his effect he wanted this precise scintillating shade of green, combined with the mythological shimmer of the Egyptian scarab.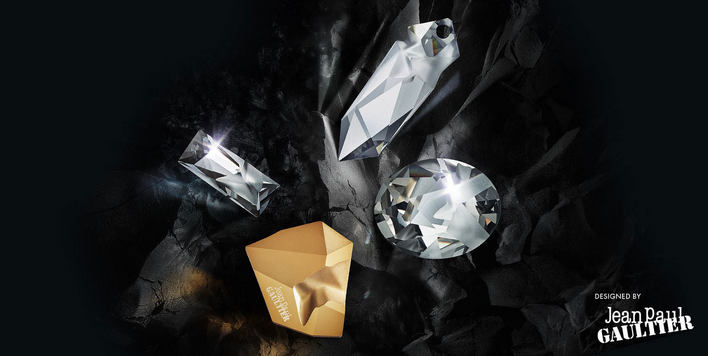 Watch this visually stunning video to see the New Fall/Winter 2016/17 SWAROVSKI INNOVAIONS up close and personal.
The theme 'Perfectly Imperfect' was designed by Jean Paul Gaultier and is absolutely spectacular!
Watch this gorgeous video highlighting the New SWAROVSKI INNOVATIONS Fall/Winter 2016/17
Hope you're in Looooove as much as we are!