SWAROVSKI CREATE YOUR STYLE design of the month
"Daydreams"
This romantic necklaces conveyes a love for the whimiscal and is inspired by the idea that the dreams for our life can be expressed through the flow of our creative inspiration. Come and dream a little dream with me.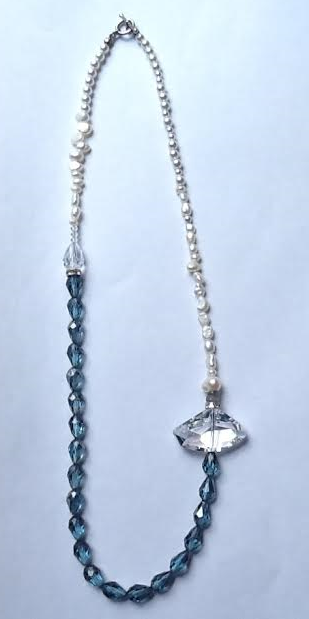 Like diamonds in the sky, you're beautiful to the eye. Beaches and sands washed away, say bye. Forever young, please don't cry. My love for you will never die." ~ Scottie Somers
Necklace Supplies:
SWAROVSKI Crystals 5500-9mm Pearshape Beads in Aquamarine Satin (21 pieces) (or use your favorite color)
SWAROVSKI Crystals 5500-10.5 x 7mm Pearshape Beads in Crystal (1 piece)
SWAROVSKI Crystals 5328-3mm Xilion Bicone Beads Crystal (3 pieces)
SWAROVSKI Crystals 5556-15mm Galactic Beads Crystal Moonlight (1 Piece)
SWAROVSKI Crystals 5820-6mm Rhinestone Rondelles Silver Crystal (2 pieces)
SWAROVSKI Crystal Pearls 5810-4mm White (22 pieces)
SWAROVSKI Crystal Pearls 5810-3mm White (5 pieces)
Natural white pearls in different sizes with holes drilled horizontally and vertically (28 pieces)
Labradorite stones (2 pieces)
Supplies
Your favorite beading wire
Your favorite style of clasp
2 crimp beads and 2 crimp covers
This design is availabe for personal use only.
Instructions
Begin by securing your clasp with the crimp bead and crimp bead cover. Begin stringing the 5810-3mm and 4mm Swarovski White Pearls in any sequence that you like. Begin to incorporate the natural style pearls to add unique elements starting with the smaller sizes first graduating to the larger sizes then back to the smaller sizes. There should be a total of about 20 pearls before adding the 3 pieces of Swarovski 5328-3mm Xilion Bicone Beads in Crystal. Then string the 5500-10mm Pearshape Crystal Bead (small end first) and and 1 pieces of the 5820-6mm Silver Crystal Rhinestone Rondelle. Next string 21 pieces of the 5500-9mm Pearshape Aquamarine Satin beads all facing the same direction (large end first). Next string the 5556-15mm Swarovski Galactic Bead. Then string the last 5820-6mm Silver Crystal Rhinestone Rondelle. Add the 2 pieces of labradorite beads. Add one 6mm natural style pearl and then string about 36 pieces of natural and Swarovski pearls in a combination that you like. Finish the necklace with your clasp secruring it with the crip bead and crip cover.