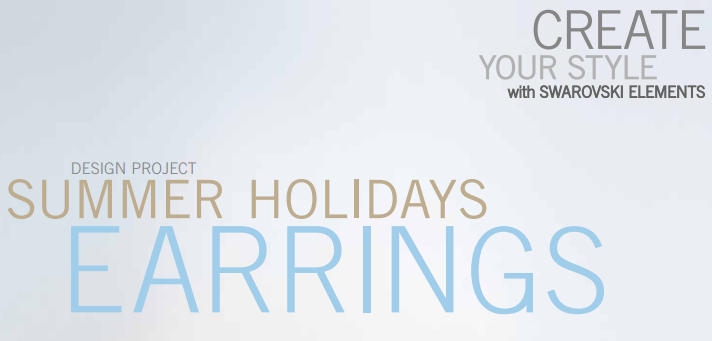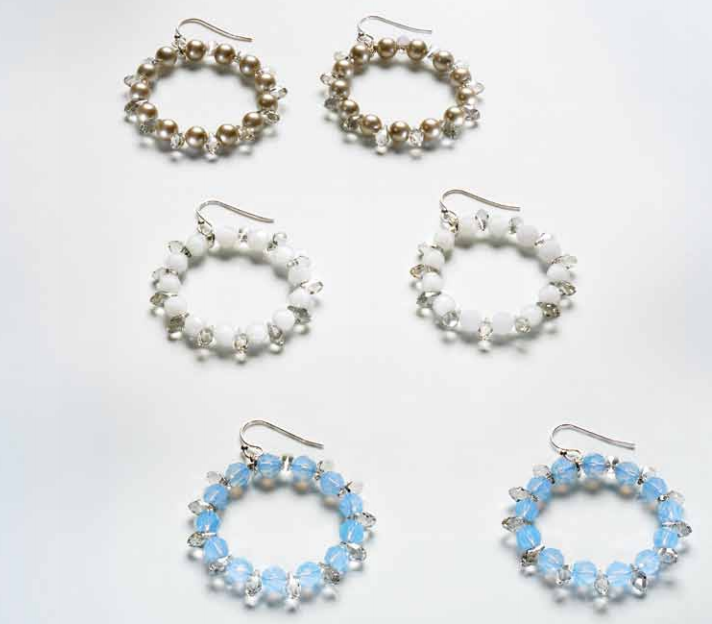 Supplies
SWAROVSKI ELEMENTS
Summer Holidays Earrings
Version 1
Beads 5000 26pcs. 6mm Air Blue Opal
Pendants 6007 24pcs. 7x4mm Crystal Silver Shade

Version 2
Beads 5000 26pcs. 6mm White Alabaster
Pendants 6007 24pcs. 7x4mm Crystal Silver Shade
Version 3
Crystal Pearls 5810 26pcs. 6mm Crystal Platinum Pearl
Pendants 6007 24pcs. 7x4mm Crystal Silver Shade

Supplies
2x Crimping tube, 2x1.8mm, silver
2x French ear wire, silver,
2x Jump rings, 4mm, silver,
2x Jump rings, 5mm, silver,
Tiger tail, 0.31mm, grey, 80cm
Tools
Crimping pliers
Flat nose pliers
Side cutter
step 1: cut 35cm tiger tail with a side cutter. slide on the 13 swarovski crystal Pearls article 5810 6mm alternating
with 12 swarovski Pendants article 6007 7x4mm (starting with a swarovski Bead article 5000). slide on a
crimping tube after the crystals.

step 2: go through the crystals and the crimping tube twice. crimp the tube with crimping pliers as shown in the
illustration.

step 3: open a 5mm jump ring sideways with flat nose pliers. Hang a 4mm jump ring onto the open 5mm jump ring
and hang it on the earring (on the tube). close the jump ring as shown.

step 4: open the French ear wire with flat nose pliers. attach it to the 4mm jump ring and close the ear wire. repeat
steps 1 - 4 for the second earring.