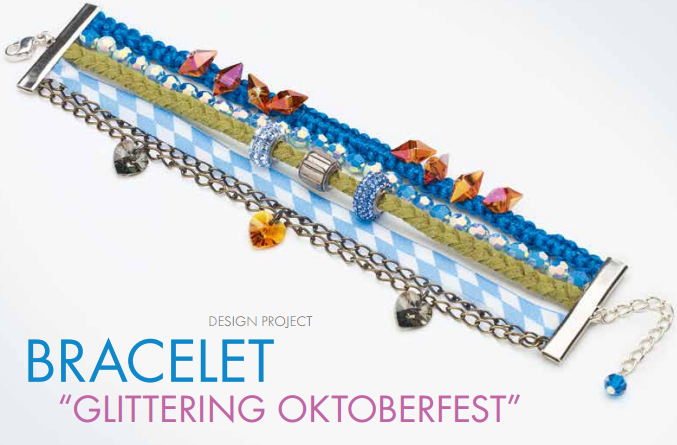 Swarovski Crystals
Article Product Group Article No. Amount Size Color Color Code
Swarovski Crystal Beads 5000 1pc. 6mm Capri Blue 243
Swarovski Crystal Beads 5000 28pcs. 6mm Turquoise 267 AB FC
Swarovski Crystal Beads 5747 8pcs. 12x6mm Crystal Astral Pink 001 AP
Swarovski Crystal Pendants 6228 2pcs. 10.3x10mm Crystal Iridescent Green 001 IRIG
Swarovski Crystal Pendants 6228 1 pc. 10.3x10mm Tangerine 259
Swarovski Crystal BeCharmed 80801 1pc. 9.5mm Bronze Brushed
Swarovski Crystal BeCharmed 81101 1pc. 13.5mm Sapphire 206
Swarovski Crystal BeCharmed 81201 1pc. 13mm Light Sapphire 211
Supplies
Chain, bronze, 36cm
2x Crimping beads, silver
2x End bars, 35mm, silver
Extension chain, silver, 4cm
1x Head pin, silver
Leather ribbon, 3mm, olive green, 1.4m
1x Lobster clasp, silver
2x Jump rings, 5mm, silver
3x Jump rings, 6mm, bronze
Nylon thread, transparent, 0.25mm, 1m
Ribbon, blue & white, 10mm, 17.5cm
Satin round ribbon, blue, 1.5mm, 4m
Tigertail, silver, 0.46mm, 20cm
Tools
Crimping pliers
Flat nose pliers
Round nose pliers
Ruler
Scissors
Sewing needle
Side cutte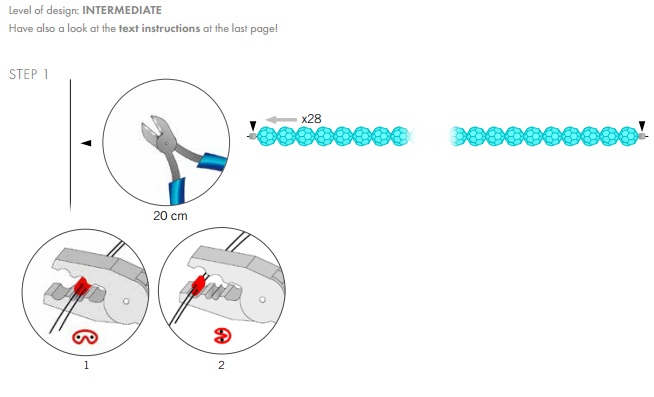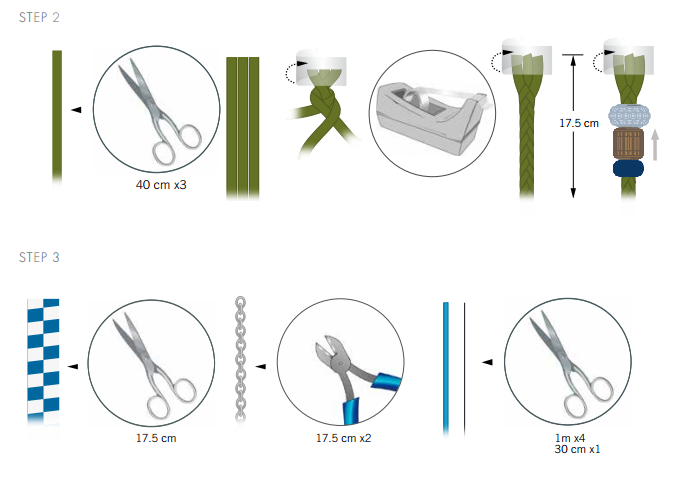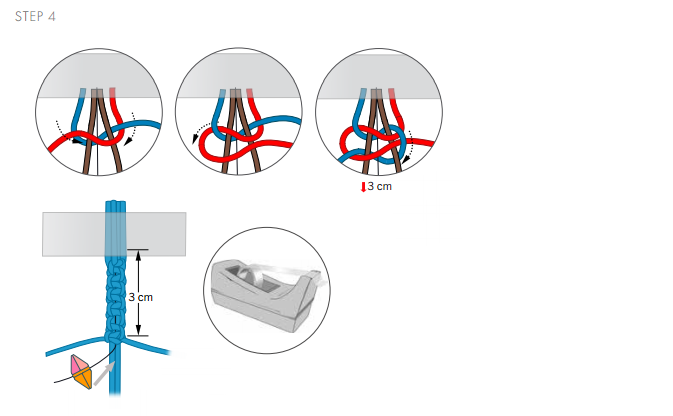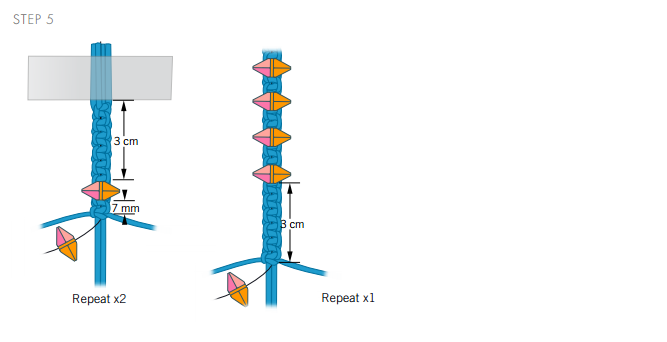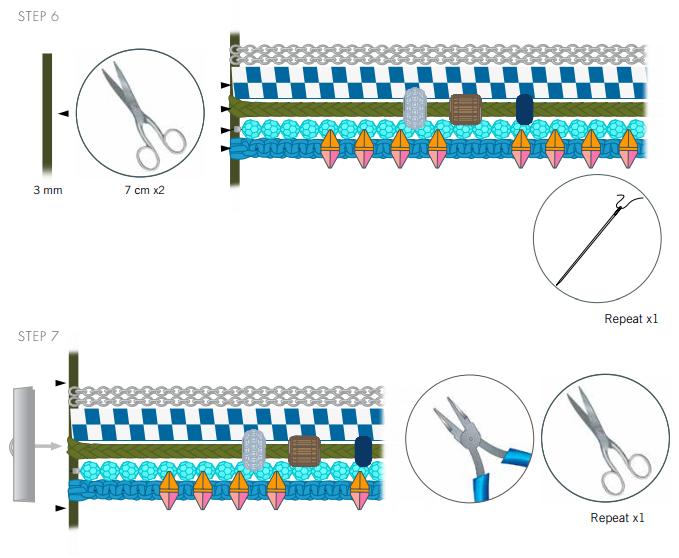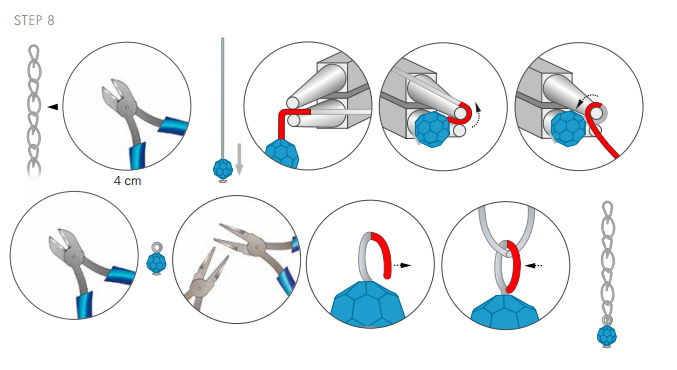 STEP 1: Cut a 20cm long piece of tiger tail, insert a crimp bead on one end and crimp the bead. Insert twenty eight Swarovski Beads art. 5000 6mm Turquoise onto the tiger tail and then insert a crimp bead onto this end and crimp it.

STEP 2: Cut three 40cm long olive colour ribbons and braid them together as shown in the illustrations until you have 17.5cm. Secure the end with tape. Insert Swarovski Element art. 81201 13mm Light Sapphire, 80801 9.5mm Bronze Brushed and 81101 13.5mm Sapphire onto the ribbon.

STEP 3: Cut 17.5cm of blue and white checked ribbon, two 17.5cm long chains, four 1m long pieces of blue satin ribbon and a 30cm
piece of nylon thread.

STEP 4: Start making a macramé knot 3cm long using the blue ribbons with the nylon thread in the middle of all of the ribbons. Insert
the Swarovski Bead art. 5747 12x6mm Crystal Astral Pink onto the nylon thread at the knot created above. See illustrations with this step for details.

STEP 5: Make 7mm more of the macramé knot and then insert another Swarovski Bead art. 5747 12x6mm Crystal Astral Pink. Repeat this process two more times to get a total of 4 beads on the ribbon with a gap of 7mm each. Make a 3cm long chain of macramé knots and again repeat the whole step to get 4 more Swarovski Beads onto the ribbon.

STEP 6: Cut two 7cm long pieces of 3mm thick olive green leather ribbon. Use nylon thread and sew one end of all chains and ribbons onto the olive green ribbon as shown in the illustrations with this step. Repeat this step for the other ends of chains and ribbons.

STEP 7: Insert an end bar onto both ends of the olive green ribbons covering all the chains and ribbon. Press the bar tightly to secure
the bar on both ends using flat nose pliers.

STEP 8: Cut a 4cm long extension chain. Insert Swarovski Bead art. 5000 6mm Capri Blue onto the head pin and turn a loop at the
end. Attach it onto one of the ends of the extension chain.

STEP 9: Attach the lobster clasp to one end of the bar and the extension chain to the other end of the bar using 5mm jump rings.

STEP 10: Attach Swarovski Pendants to the chains using 6mm bronze jump rings as shown in the illustrations with this step.