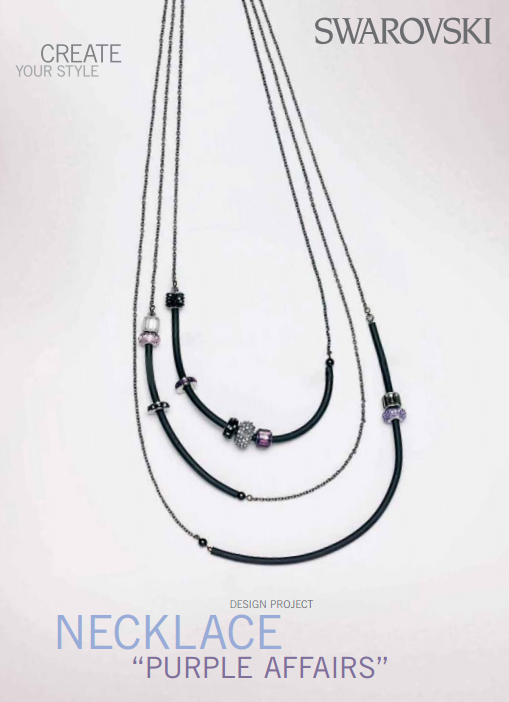 SWAROVSKI ELEMENTS
Article Product Group Article No. Amount Size Color Color Code
Round Beads 5000 3 pcs. 5 mm Black Diamond 215
Crystal Pearls 5810 3 pcs. 5 mm Crystal Mystic Black Pearl 001 335
BeCharmed Pave Beads 80301 1 pc. 10.5 mm Amethyst 204
BeCharmed PaveBeads 80301 1 pc. 10.5 mm Black Diamond 215
BeCharmed PaveBeads 80401 1 pc. 16 mm Crystal Silver Shade 001 SSHA
BeCharmed PaveBeads 80801 1 pc. 9.5 mm Silver Brushed
BeCharmed PaveBeads 80901 1 pc. 11.5 mm Jet 280
BeCharmed PaveBeads 81001 1 pc. 12.5 mm Amethyst 204
BeCharmed PaveBeads 81001 1 pc. 12.5 mm Jet 280
BeCharmed PaveBeads 81101 1 pc. 13.5 mm Tanzanite 539
BeCharmed PaveBeads 81201 1 pc. 13 mm Light Amethyst 212
BeCharmed PaveBeads 81201 1 pc. 13 mm Jet 280
Supplies
Chain, gun metal, 240 cm
6x Eye pin, gun metal
8x Jump ring, gun metal, 4 mm
2x Jump ring, gun metal, 5 mm
1x Jump ring, gun metal, 7 mm
1x Lobster clasp, gun metal
Rubber tube, black, 4 mm, 51 cm

Tools
Flat nose pliers
Pin
Round nose pliers
Scissors
Side cutter
Snipe chain nose pliers
Wire, 0.4 mm, 30 cm
Text Instruction with Pictures Below
STEP 1: Slide on a Swarovski Crystal Pearl style 5810 5 mm Crystal Mystic Black Pearl and Bead art. 5000 5 mm
Black Diamond onto a eye pins and form loops at the other end of both as shown. Repeat this step two
more times to get 4 more of these.

STEP 2: Cut the chain and rubber tubes to the lengths shown in the illustrations.

STEP 3: Open the loop of one of the 5000 5 mm Black Diamond Beads made in step 1 and attach the 29 cm
and 61.5 cm chains to either side.

STEP 4: Cut a 30 cm wire thread it through one end of the chain and secure the end by twisting it around the chain.
Thread the other end of the wire through the 21.5 cm rubber tube and pull it through to the other end and in
the process pulling in the chain through the tube and out of the end.

STEP 5: Slide the Swarovski Beads Style 80301 10.5 mm Black Diamond and 81101 13.5 mm Tanzanite onto the tube.

STEP 6: Secure the chain at the end of the tube temporarily using a pin and cut off the remaining chain as shown.
Open the loop on the Crystal Pearl eye pin and attach it to the chain. Attach the previously cut off chain to the
other end of the pearl loop.

STEP 7: Cut the chains and tubes to the lengths as shown in the illustrations. The Swarovski crystals that go with different
chains have been mentioned accordingly in the illustration under B and C. Repeat steps 3–6 to connect all the
chains together and insert Swarovski crystals onto them.

STEP 8: Attach 4 mm jump rings to the three chains and then attach these to a 5 mm jump ring and then
a 7 mm jump ring as shown.

STEP 9: Connect the other end of the three chains to a 4 mm jump ring, then a 5 mm jump ring and attach a lobster clasp.