Swarovski Crystal "Punk Blues" Bracelet Design and Free Instruction
CREATE YOUR STYLE Mini Project Pre-Season Spring/Summer 2015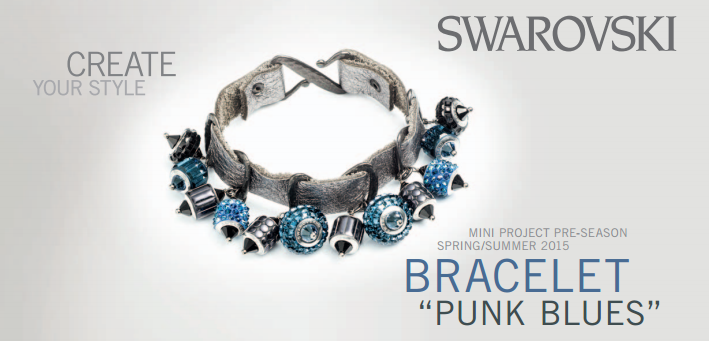 Swarovski crystals
Product Group Article No. Amount Size Color Color Code
Beads 5328 24 pcs. 5 mm Jet 280
BeCharmed Beads 80201 2 pcs. 15 mm Montana 207
(Pavé Beads)
BeCharmed Beads 80301 2 pcs. 10.5 mm Montana 207
(Pavé Beads)
BeCharmed Beads 80701 2 pcs. 9.5 mm Black 02
(Pavé Metallics)
BeCharmed Beads 80801 2 pcs. 9.5 mm Black 02
(Pavé Metallics)
BeCharmed Beads 80901 2 pcs. 11.5 mm Crystal Bermuda Blue 001 BBL
(Pavé Spikes)
BeCharmed Beads 81201 2 pcs. 13 mm Jet 280
Supplies:
1 pc. ½" x 10" leather strap – antique silver TierraCast® 21-0010-20
12 pcs. 2" head pins – nickel TierraCast® 01-0028-01
12 pcs. Oval jump rings TierraCast® 01-0018-13
4 pcs. Z hook TierraCast® 94-6179-13
2 pcs. Compression Rivets TierraCast® 01-0060-13

STEP 1: For each Swarovski BeCharmed Pavé Bead listed above, create each charm as follows: using one head pin, slip on (1) Swarovski XILION Bead art. 5328 5 mm Jet, (1) Pavé Bead, (1) XILION Bead art. 5328 5 mm Jet. Create a
simple loop. Repeat this step for a total of 12 Pavé charms. Set aside.
STEP 2: Using the leather strap, weave on 3 Z hooks with the "X" to the wrong side of the leather, keeping them centered.
Note: make sure you squeeze closed the opening of the hook before sliding onto the leather strap.

STEP 3: Working only on one side of the Z hook, open (1) jump ring and attach to the Z clasp, add (1) Pavé charm made in step 1 and close ring. In this same manner, attach a total of 2 Pavé charms to the left corner and 2 to the right corner of the 3 Z hooks.

STEP 4: Measure the fi nished length of your bracelet, mark and cut the leather.
Note: the Z hook adds ~1 inch in length.

STEP 5: Fold the leather over ~10 mm, using a leather hole punch, make a hole through both sides of the leather.
In the hole just made, rivet on (1) compression rivet.
Note: for detailed instructions on riveting go to www.TierraCast.com

STEP 6: Repeat step 5 for the opposite end making sure to slip on the remaining Z hook before you rivet the end closed.