EXTRAVAGANT SIMPLICITY
A pared-back feel is prevalent as the design world becomes focused on what is being termed "Boredom Beauty." This new design ethic sees basics reinvented with hidden detailing and purpose. Wardrobes concentrate on the achievable and wearable. Alongside this, a new male/female hybrid is introduced. As women reject the trend of dressing in masculine styles, as introduced in the "Female Shift" perspective of last season, the rise of the "New Man" means that men opt for the traditionally "feminine" colors of nude and blush in more subtle shapes. Indeed, there is a strong, ongoing focus on the classic shapes of the past with a modern interpretation. Form follows function as in Bauhaus doctrine, and in this theme, cut and finishing touches are key: details are refined and elegant.
THE MOOD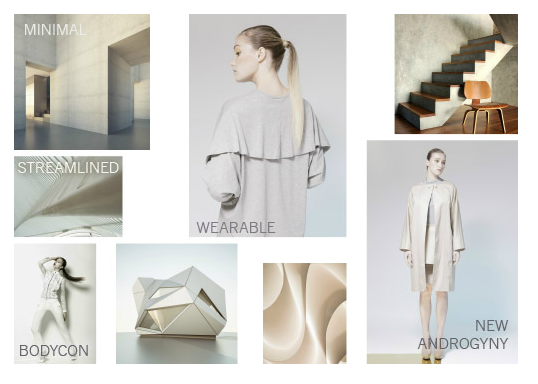 A firm focus on keeping it straightforward and simple coins the new design ethic of "no-fuss" fashion.
Crystal emerges in clean, geometric structures or as finishing touches to simplified designs.
Minimalistic jewelry styles – clean-cut stones and alternative materials – become the new expression of luxury.
Feminine lines meet masculine style in the new androgyny, where men wear typically "female" colors such as beige, pink, cream, and champagne.
Basics are reinvented to lay the foundation for a wardrobe that will bridge both fashion and time.
Reduced, well-chosen, and functional designs in New Segments take center stage.
PRODUCT INSPIRATION
Crystals in small sizes, placed with geometric precision, are used to form patterns or add interest.
Refined geometrics blend harmoniously with minimal designs.
The reinterpreted classic shapes of Fancy Stones and Pendants add a modern finish.
Subtle Sew-on Stones and Beads help to soften the severity of designs.
Streamlined cuts in classic shapes allow harsh purity to morph into modern luxury.
JEWELRY INSPIRATION
New geometric cuts offer a multitude of combination possibilities to aid the creation of interesting patterns for modern classical jewelry lines. Jewelry designed by Philippe Audibert
COLOR COMBINATIONS INPIRATIONS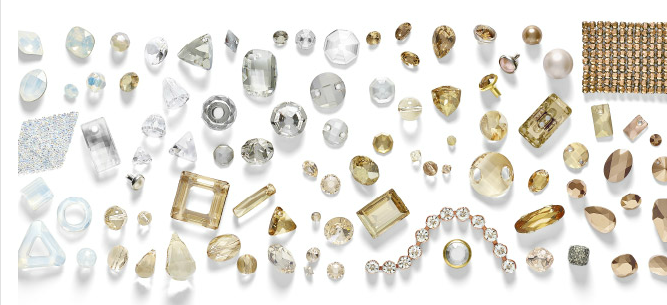 Swarovski Color Inspirations Featuring White Opal, Crystal, Crystal Silver Shade, Crystal Golden Shadow, Light Colorado Topaz and Crystal Metallic Light Gold 2X
The graceful and sophisticated appearance of these subtle, yet stunning colors and effects enhances each new jewelry or fashion design with a refined elegance that is simply divine.
SEGMENT INSPIRATION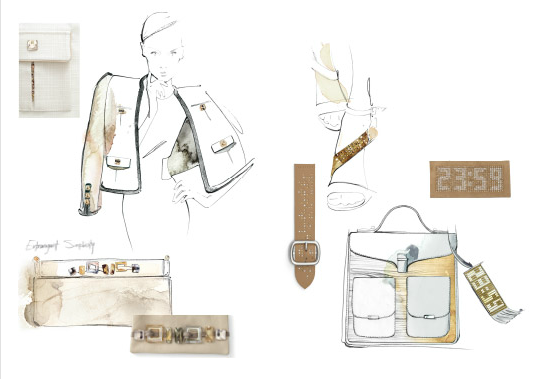 Crystal is integrated into designs or used as subtle trims or patterning along edges, under collars, or to highlight seams in tone-on-tone combinations.
Pure, clean design brings order and serenity to an overhyped world.
Solid forms in asymmetrical, geometric cuts are outlined with crystal.
A new breed of synthetics in sharp lines highlights style with purpose.
Fluidity clashes with structure, showcasing a new male/female hybrid.
Stripped-down shapes reflect the consumer need for calm and clarity.
Minimalism gets a makeover with modern material mixing.
TRANSFERS FLAG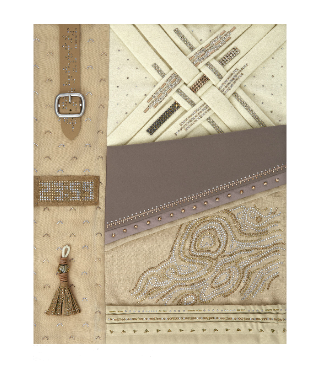 Geometric structures with deliberate attention to detail and clean lines offer a subtle yet strong design element.
COMPONENTS FLAG