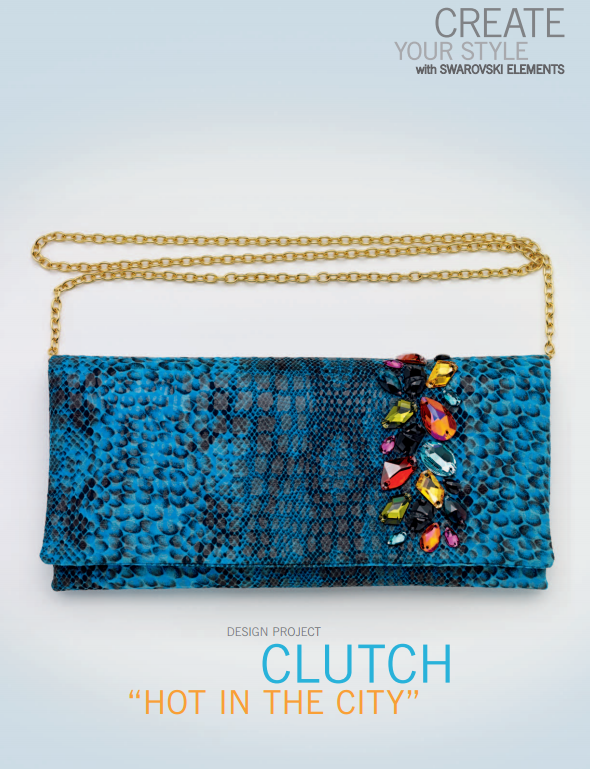 SWAROVSKI ELEMENTS
Sew-on Stones 3210 1 pc. 24 x 17 mm Light Turquoise
Sew-on Stones 3230 2 pcs. 12 x 7 mm Blue Zircon
Sew-on Stones 3230 3 pcs. 12 x 7 mm Fuchsia
Sew-on Stones 3230 2 pcs. 12 x 7 mm Jet
Sew-on Stones 3230 2 pcs. 23 x 14 mm Burgundy Blue Zircon Blend
Sew-on Stones 3230 1 pc. 23 x 14 mm Crystal Astral Pink
Sew-on Stones 3230 1 pc. 28 x 17 mm Crystal Astral Pink
Sew-on Stones 3254 1 pc. 30 x 14 mm Crystal Red Magma
Sew-on Stones 3256 1 pc. 27 x 16 mm Crystal Red Magma
Sew-on Stones 3257 3 pcs. 19 x 13 mm Jet
Sew-on Stones 3267 2 pcs. 23 x 13 mm Olivine
Sew-on Stones 3267 2 pcs. 23 x 13 mm Sunflower
We can special order anything that is not listed on the website. Please let us know what you are interested in and we are happy to provide you with that information. Thank you!
Supplies
Double sided tape
Clutch bag, 29 x 14 cm
Nylon thread, 0.25 mm, 3 m
Tools
Sewing needle
Scissors
STEP 1: Use double sided tape to attach all SWAROVSKI ELEMENTS mentioned on the material list onto the clutch bag
as shown in illustrations.

STEP 2: Secure the SWAROVSKI ELEMENTS by sewing them onto the clutch bag.