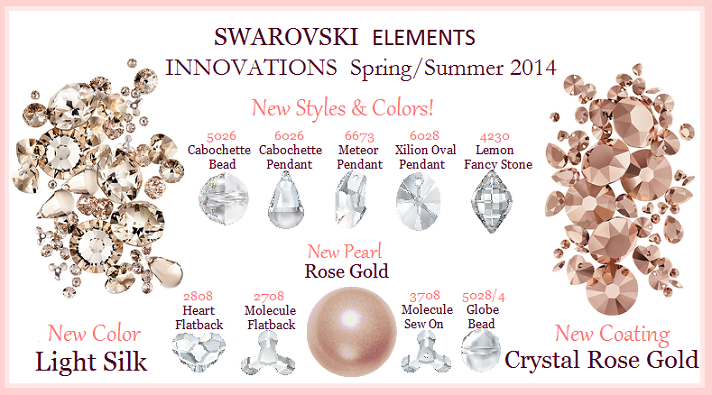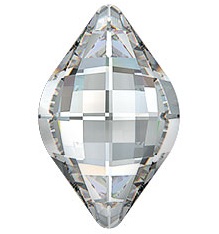 The spectacular 4230 Lemon Fancy Stone is a fresh new interpretation of two classics. The classic 4227 Navette shape and the elegant facets of the 4584 Chessboard cut are merged into a streamlined convex lemon shape. It is ideal for creating floral patterns but also facilitates abstract modern designs. Available in three different sizes, it is the perfect element to create matching items of jewelry.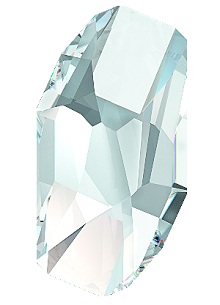 The style 4773 Meteor Fancy Stone is brilliant asymmetrical crystal stone that compliments an edgy, rock and roll type of glamorous look. The Swarovski Fancy Stones can be set or glued into precast jewelry and with its unique cut and brilliant depth, the extraordinarily eye-catching stone exudes and astral elegance and opulent beauty.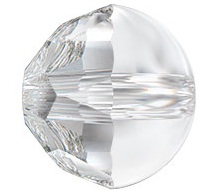 The Swarovski 5026 Round Cabochette Bead is an innovative style with two different qualities seamlessly blended together, it simply has it all. It blends the aesthetic appeal of precision-cut facets with the simple sophistication of a deliberately smooth surface, offering an entirely unique appearance depending on the angle. The romantic feel of this bead is harmonized through the marriage of two diverse surfaces coming together to create a stunning textural expression of a stylish new look, one that is inspired by a natural glistening water droplet. This exclusive Swarovski product is a rare find and one that will allow for many unique jewelry combinations.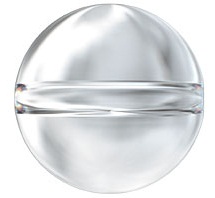 The secret to beauty is often simplicity. The 50284 Crystal Globe Bead fascinates with its completely round shape which, in its perfection, bears the distinctive signature of SWAROVSKI ELEMENTS, accompanied by an opulent 3D effect. It is available in the 6mm, 8mm and 10mm and as a round element, the Crystal Globe Bead combines especially well with the new 5026 Cabochette Bead & 6026 Cabochette Pendant or the classic style 5000 Bead to create subtly stylish designs. In its perfect simplicity, the Crystal Globe Bead is a masterful tribute to Swarovski's precision and purity. Its roundness makes it an exceptional and extremely versatile carrier for any color or effect in a myriad of crystal jewelry designs.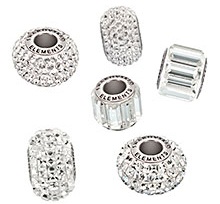 The BeCharmed Pavé beads, available in this form exclusively from SWAROVSKI ELEMENTS, are exceptionally brilliant. This large hole crystal bead is offered in a variety of beautiful shapes such as the 80101 BeCharmed Bead with clustered pave design using the radiant 1088 Xirius Chaton Round Stones, the 80201 BeCharmed Bead using 4428 Xilion Square Fancy Stones and the 80301BeCharmed Bead using the 4547 Baguette Fancy Stones. These stylish and versatile beads are comprised of a fashionable stainless steel inner core ring featuring the exclusive SWAROVSKI ELEMENTS logo. These high end elements are exceptionally beautiful and easy to use, perfect for making either single necklaces or bracelets by simply stringing it onto your favorite chain, or stack multiple colors together to create a unique jewelry set similar to the popular Pandora charm jewelry line. The larger hole offers options for utilizing coarser materials such as rubber, leather, or fabric can also be incorporated into the designs. Your options are truly endless with these elegant and fashionable beads. Click here for a dazzling array of color inspirations!