Summer is the time to reveal glorious opulence!
The nowhere-to-hide Summer Grace Charm-bracelet by CREATE your STYLE™ with
CRYSTALLIZED™ – Swarovski Elements is the perfect companion to flatter your look and
enhance the grace of your arm movement. Big Sew-on Stones in white and silver shade
are aligned to a streamlined graphical structure. The attached dangling bows of jumpring-chain
with a dense trimming of small pendants drop down like little water drops in accentuated mint and rose.
Embrace the joyful splendour of summertime!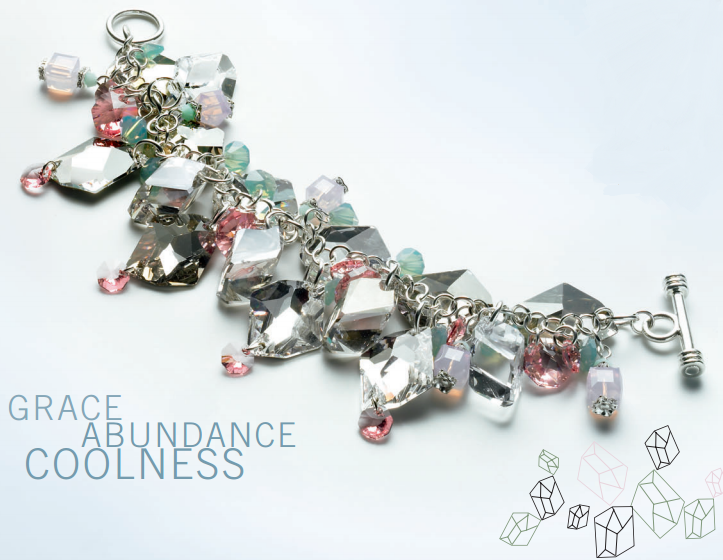 SWAROVSKI ELEMENTS
Sew-on Stones
Art. 3265-26x21 mm
Crystal Silver Shade

Beads
Art. 5000-4 mm
Mint Alabaster 397

Beads
Art. 5301-8 mm
Pacific Opal 390

Art. 5601-8 mm
Violet Opal 389

Pendants
Art. 6401-8 mm
Light Rose 223
Pacific Opal 390

Pendants
Art. 6401-12 mm
Light Rose 223

Pendants
Art. 6650-22 mm
Crystal Silver Shade

Squaredelles
Art. 5920-4mm
Silver Crystal
Or you can use;
Squaredelles
Art. 5920-4mm
Gun Metal Crystal
Or you can use;
Squaredelles
Art. 5920-8mm
Silver Crystal
Materials
Toggle 18 mm, Silver
Jump Ring ø 5 mm,
Silver
Jump Ring ø 8 mm,